English
What strikes above all on entering the museum is the singular architecture, amalgamation of a grain hall built in the 19th century and a structure in raw concrete like a « museum with unlimited growth », a concept invented by Le Corbusier. The two architectures interact, as do the archeology collections and the fine arts collections.
Part of the French and international cultural landscape, the oldest public collection in France, founded in 1694, can be proud of the richness of its collections. In addition to the international reputation of its collection of graphic art (more than 8000 drawings), it has an important local, Mediterranean and Egyptian archaeological heritage, numerous sculptures, ceramics, pieces of goldsmithery and an exceptional collection of paintings representative of the main currents in the history of Western art from the end of the 15th to the 20th century.
Let yourself be surprised by the Museum of Fine Arts and Archeology of Besançon, one of the most atypical museums in France.
>Click on the link below to consult the information concerning THE BESANÇON MUSEUM OF FINE ARTS AND ARCHAEOLOGY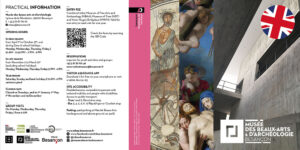 PRACTICAL INFORMATION
—
Musée des beaux-arts et d'archéologie
1 place de la Révolution, 25000 Besançon
+33 3 81 87 80 67
mbaa@besancon.fr

—
OPENING HOURS

In high season
from April 1st to October 31th, and during Zone A school holidays :
Monday, Wednesday, Thursday, Friday | 10 AM – 12:30 PM – 2 PM – 6 PM

In low season
from November 2 to March 31st (excluding school holidays) :
Monday, Wednesday, Thursday, Friday | 2 PM – 6 PM

Year-round
Saturday, Sunday and bank holidays | 10 AM – 6 PM non-stop

Closing days
Closed on Tuesdays, and on 1st January, 1st May, 1st November and 25 December

—
GROUP VISITS

On Monday, Wednesday, Thursday, Friday | from 9 AM

—

ENTRY FEE

Combined ticket Museum of Fine Arts and Archaeology (MBAA), Museum of Time (MDT) and Victor Hugo's Birthplace (MNVH). Valid for one entry to each site for one year.

Full fare : 8,40€
Reduced fare (4,20€) and free entry under certain conditions

Free entry on each 1st Sunday of each month, on night openings, and national events

—

RESERVATIONS

inquiries for youth activities and groups :
+33 3 81 87 80 49
reservationmusee@besancon.fr

Guided tours in English and German are offered by the Tourist Office (subject to availability)
Information and reservations on +33 3 81 80 92 69 or +33 3 81 80 92 01

—
VISITOR ASSISTANCE APP

Download it for free on your smartphone or rent a tablet device: €3

—
SITE ACCESSIBILITY

Disabled access: accessible to persons with reduced mobility and people with disabilities

Access to public transport:
– Tram 1 and 2, Revolution stop
– Bus 3, 4, 5, 6, 11, 12 République or Courbet stop

Parking: paid parking at Marché Beaux-Arts (underground and above-ground car park)